Wildlife Photography and Snowshoe hiking
in Hokkaido during winter, 4 days
Price
Please contact us
Period
3nights 4days
Season
Winter
Tour Highlights
A complete plan of East Hokkaido. Snow, Hot Spring & Widlife!
●Enjoy the Seafood of Hokkaido.
●Photography of Red-Crowned Crane at Tsurui Village.
●Search for Ezo-Ural Owl in the forest.
●Observe and photograph one of the endangered species, Blakiston's Fish Owl
●Ice Smelt Fishing experience and hot Tempura !
●Ice walking in Notsuke Peninsula.
●Hot Spring Experience at [KUMA NO YU] which means "Bear's Hot spring".
●Observe Steller's Sea Eagle and White-Tailed Eagle from Drift Ice Cruise.
●Swan observation at Kussharo Lake.


Private tour with Guide cum driver
You will be fully supported from your arrival to departure.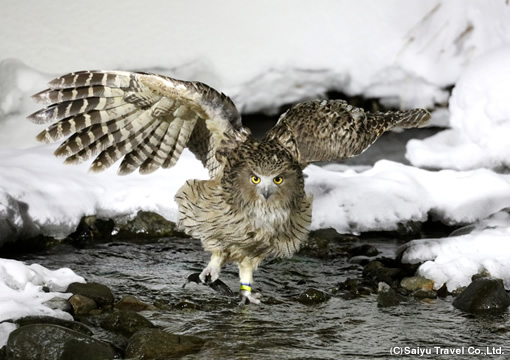 Schedule
Place
Schedule
1
Kushiro
Tsurui Village Rausu
Meet at Kushiro Airport. We will guide you to Japanese market where you can make your own lunch called "Kattedon". Insert the ingredients you like to have in the seafood bowl. After that, travel around the photo spots of Tsurui Village taking pictures of Red-Crowned Cranes. Transfer to Rausu. We may also see Ezo-Ural Owl inside forest on the way. In the evening, visit [Washi No Yado] where you can observe & photograph Blakiston's fish owl.

Rausu (Shiretoko Serai)|Meals offered:Morning, Dinner

2
Rausu
Nemuro
Notsuka Peninsula
Rausu

In the morning, experience the ice smelt fishing which local fishermans do in this season. The lunch will be Tempura, made by the smelt fishes. Transfer to Notsuke Peninsula for the ice walk experience. In the evening, enjoy the natural Hot spring in Shiretoko called [KUMA NO YU].

Rausu (Shiretoko Serai)|Meals offered:Morning,Lunch, Dinner

3
Rausu
Utoro

In the morning, take the Drift Ice Cruise. Observe and photograph Steller's Sea Eagle & White-Tailed Eagle. Then, Visit Rausu Visitor Center, which introduces the natural resources of Shiretoko Peninsula.Then, transfer to other side of the Shiretoko peninsula called Utoro. In the evening, we will guide you to Puyuni Cape from where you can view the sunset at ice and okhotsk sea coast at once.

Utoro (Hotel Kifu Club Shiretoko)|Meals offered:Morning, Dinner

4
Utoro
Lake Kussharo
Nakashibestu
In the morning, take the drive along the okhotsk sea coast to reach Lake Kussharo. Observe Swans and ducks gathering at places where the ice is melt by warmth of hot spring. If luck favors, we may see flowers made-up of ice, called frost flowers. Then transfer to Airport, end of our service.

Meals offered:Morning
※We will arrange the tour as per your requirement. Should you like to change the hotels, or customize the use of private vehicle and guide or meals, please feel free to consult to one of our staffs.
Price
Number of people
Price per one
Tour cost
6(2triple room)
Please contact us
4 (2twin/double rooms)
Please contact us
2(twin/double room)
Please contact us
Single room supplement
Please contact us
Above mentioned prices are inclusive of:
English Speaking Guide cum driver (Kushiro Airport pick-up / Nakashibetsu Airport drop off)  |  Private Vehicle(SUV type for 1~2 participants, 7 seater Wagon for 3~4 participants, 10 seater Wagon for above 5 participants)  |  Accommodation and service charges as mentioned in the itinerary  |  Meals(3Breakfast, 1Lunch, 3Dinner)  |  Cruise boat fee in sharing basis  |  observation fee as mentioned in the itinerary  |  Other Surcharges
Above mentioned prices are exclusive of:
Personal expenses(Drinks etc.)  |  Lunch expenses (Lunches are not included, our guide will show you where you can have food and snacks.)
Other
※ If you are more or less, than the mentioned group size, please inquire us for the tour cost.
※ This tour targets the observation and photography of wildlife. Please note that the tour is highly affected by
the day's weather and we may need to change the travel route somtime.
※ Pease note that this progarm will not gurantee sighting of wildlife mentioned in itinerary.
※ Boat cruises are weather dependant. If the cruise are cancelled due to bad weather, the cruise boat fee will be refunded.
※ In winter, there are possible blizzards in Hokkaido. We may need to change the tour itinerary.
Our guide will explain and manage the program according to the situation.
※ Unless it is an early flight, we can manage pick-up / drop-off in the same cost from either Kushiro Airport,
Memambetsu Airport, Nakashibetsu Airport.

Contact about this tour
Travel planning and implementation:SAIYU TRAVEL CO.,LTD.
3rd floor, Kyodo Bldg. jimbocho, 2-2, Kanda, jimbocho, Chiyoda-ku, Tokyo 101-0051, Japan |Travel Agency Registration No. 607