You will be offered the meals made from the ingredients made in Hokkaido and taken from the sea.
The first floor in building A is set as a dining space, and can be used by everyone, not limited to those who are staying overnight at Shiertoko Serai. You are welcome to enjoy with your travel story and local delicious meals.
Fresh food from the ocean
Rausu is faced to the Nemuro strait and is known to be a town of fishers. We choose the fishes from the market, which are taken from the ocean on the same day and use the fresh ones to make meals. To help the local fishermen, sometimes we also reach the fisher boat to buy the fishes. You can taste the freshness of local food which cannot be tasted in other parts of Japan.
Venison
Venison is considered to contain high protein and iron. We are buying venison from Hamanakacho which is famous for its dairy products including cow milk. The cow milk from Hamanakacho is so nicely prepared that it has passed strict regulations to be used in world famous Haagen Dazs ice creams. The pasture grass where the deer's feed is same pasture where the cows are feed in hamanakacho. Hence, the deer's eating delicious grass don't smell lot, you may be able to eat the best of venison you have eve ate.
Smoked meals
We are using smoking device to make smoked meals. Based on the meal, we use Sakura, Oak, walnut and beech woods. Since the smokes meals differ depending upon the temperature, ingredients etc., there is never the same taste. That is because we think "meals" also live like there is no another day, like the travelers.
Dinner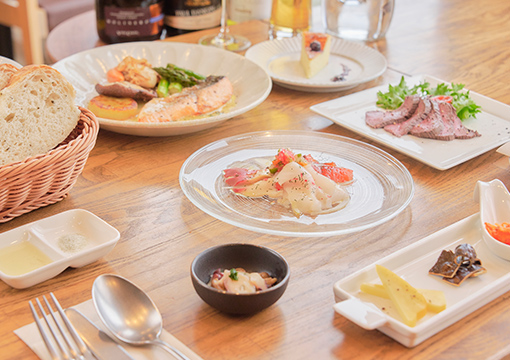 Bar
Beer

Draft Sapporo Classic  …¥600


SAKE
Otokoyama (Ashahikawa)…¥500 
Kitano Katsu (Nemuro)…¥500 
WINE
Red wine(GLASS/BOTTLE) …¥500~ / ¥3000~
White wine(GLASS/BOTTLE) …¥500~ / ¥3000~
※We have collection of varieties of red and white wine.


WHISKY
Japanese



etc

Haskap Sour  …¥400
Lime Sour  …¥400
Gin and Tonic  …¥500~
Rum Coke  …¥500~
Tequila  …¥600~
Soft Drinks  …¥350~
Lunch / 11:30~14:00
The lunch menu is prepared from the seasonal food ingredients only available in Hokkaido. Enjoy your beautiful time with the panoramic of ocean of Rausu with our meal.
Lunch Menu
Smoked Curry made of Rausu's local fishes …¥750  
Venison Plate(with soup) …¥950
Today's special Lunch (with soup) …¥1200


Alacarte
Salad made by kind chef …¥650
home-made Oysters oil pickle …¥400
home-made smoked bacon grill …¥900
Botan Shrimp grill …¥1200
Seasonal ahijo (with bucket)…¥750
Home-made smoke cheese …¥450
Indian Coffee …¥350
Breakfast / 07:00~09:00
The breakfasts are prepared from home-made bread and set to American "self-service" style. You can enjoy the sunrise from the big window of dining hall while enjoying your breakfast.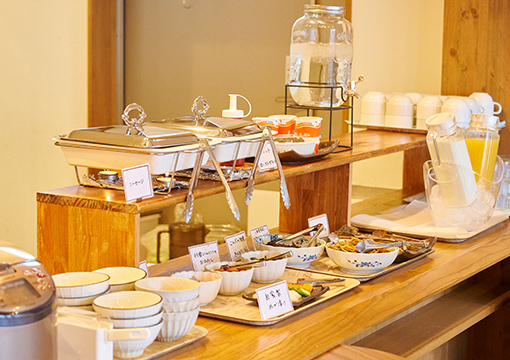 Event・Party
Based on your need and interest, we can prepare set meal plan for you. You are most welcomed, if you want to use our restaurant for your party or events. Please contact in advance for parties of events.