Dinner / 18:00 - 20:00
If you are staying here with a half-board meal plan, your dinner will be our original multi-course western meal.
We will be preparing various seasonal dishes using local seafood and ingredients from Rausu and Hokkaido.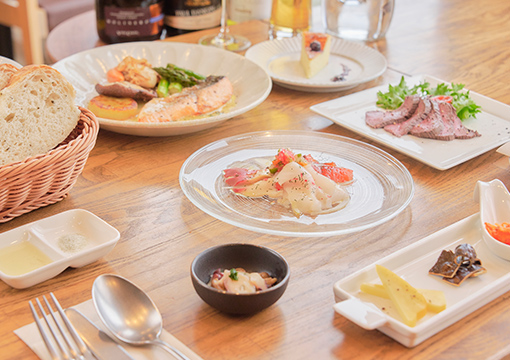 Additional menu
In addition to the standard dinner, additional dishes can be arranged.
Please make a reservation in advance.


Ibara Crab [All year]
A rare crab found in the Nemuro Strait.
Half the crab is just enough for two people to share.
・Full(2~3Kg)12,000 yen - 16,000 yen 
・Half(1~2kg)6,000 yen - 8,000 yen


Botan Spot Prawns [From mid-July to September]
Botan spot prawn shabu-shabu will be served during summer.
Enjoy the prawns both boiled and raw.
・Spot Prawns Shabu-Shabu (Hot pot) : 3,000 yen


Kinki Fish [All year]
Kinki fish is known to be the most expensive fish in Shiretoko and is remarkably fatty among other fish.
Enjoy it simmered or dried, depending on your preference.
2,500 yen - 4,500 yen per fish
Breakfast / 07:00~09:00
A buffet-style breakfast featuring homemade bread made with Hokkaido wheat, grilled local fish, and more. Savor the small, yet delicious selection of dishes, while enjoying the morning sun shining through the large dining room windows.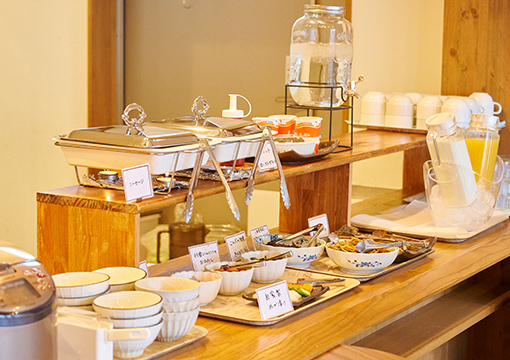 Bar
Beer

Draft Sapporo Classic  …¥715


SAKE
Otokoyama (Ashahikawa)…¥825 
Kitano Katsu (Nemuro)…¥660
WINE
Red wine(GLASS/BOTTLE) …¥715~ / ¥3850~
White wine(GLASS/BOTTLE) …¥715~ / ¥3850~
※We have collection of varieties of red and white wine.


WHISKY
Japanese Yoichi…¥990



etc

Haskap Sour  …¥660
Lime Sour  …¥660
Gin and Tonic  …¥660
Soft Drinks  …¥385~
Event・Party
Based on your need and interest, we can prepare set meal plan for you. You are most welcomed, if you want to use our restaurant for your party or events. Please contact in advance for parties of events.