Home > Tour > Shiretoko views from the sea and forest. Hiking of Shiretoko Goko and Lake Rausu 4 days
Shiretoko views from the sea and forest.
Hiking of Shiretoko Goko and Lake Rausu 4 days
Price
Please contact us
Period
3nights 4days
Season
Summer
Tour Point
Complete 4 days to enjoy hiking at Rausu lake and Shiretoko Goko(five lakes)!
Enjoy the nature and unique Vegetation while hiking in 2 different lakes!
●3 nights stay at world heritage site, Shiretoko area.
●Sperm Whale watching at the Strait of Nemuro.
●Observe and photograph rare Blakiston's fish owl at [Washi No Yado]
●Photography of Blakiston's Fish Owl.
●Observe Ezo Sika deer, Ezo Red Fox at the Notsuke Peninsula.
●Hot Spring Experience at [KUMA NO YU] which means "Bear's Hot spring".
●Walk to one of Hokkaido's icon; Elevated Wooden Path at "Shiretoko Goko".You will walk one-part of 800m long path while praising breathtaking views of Shiretoko Mountain range.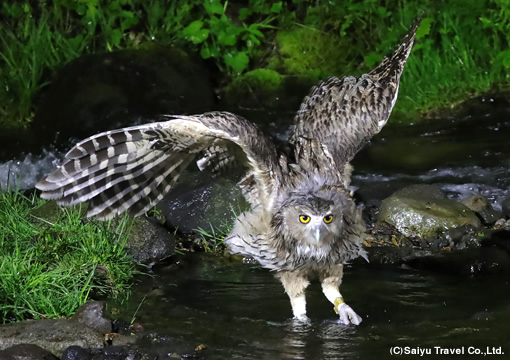 Itinerary
Place
Schedule
1
Nakashibetsu
Notsuka Peninsula
Rausu
Meet up at Nakashibetsu Airport at Nemuro. Transfer to Rausu, which lies at the base of Shiretoko Peninsula.
On the way, explore the Notsuke Peninsula to look for Ezo Sika deer, Ezo Red Foxes.We will also guide you to Todowara Natural Park, where the trees have died as a result of the drought offering beautiful sceneries.
In the evening, visit [Washi No Yado] where you can observe & photograph Blakiston's fish owl as an extra cost.

Rausu (Shiretoko Serai)|Meals offered:Dinner

2
Rausu
Rausu Lake
Rausu

Transfer to the hiking route entrance by private vehicle & start hiking to Lake Rausu. The entrance is located at halfway up the Shiretoko Pass.
●Hike to Lake Rausu (6km)
The way to Lake Rausu is filled up of unique vegetations. On a clear day, Magnificent mountain reflections can be seen at Lake Rausu from "Ni No Numa", one of the view points of the lake.
Then, Visit Rausu Visitor Center, which introduces the natural resources of Shiretoko Peninsula.


Rausu (Shiretoko Serai)|Meals offered:Morning, Dinner

3
Rausu
Shiretoko Goko (Five Lakes)
Rausu

In the morning, take a cruise boat to look for Sperm Whale, feeding in strait of Nemuro. After that, cross the Shiretoko Pass to reach Shiretoko Goko (Five Lakes) which offers wide view of the Namuro Strait. Walk the complete circuit with big loop at the Shiretoko goko, from where you can admire the Shiretoko mountain range.
●Shiretoko Goko (Five Lakes) hiking (3km)
Return back to Rausu through Shiretoko pass after completing the hike. On the way back to Rausu, stop by one of the natural Hot spring in Rausu called [KUMA NO YU] which means "Bear's Hot spring".

Rausu (Shiretoko Serai)|Meals offered:Morning, Dinner

4
Rausu
Nakashibestu

In the morning, transfer to the view point for the views of Kunashiri Island. After that, we will guide you to Rausu's regional Museum which introduces the history of Shiretoko Peninsula. Then transfer to Airport, end of our service.

Meals offered:Morning
※We will arrange the tour as per your requirement. Should you like to change the hotels, or customize the use of private vehicle and guide or meals, please feel free to consult to one of our staffs.
Price
Number of people
Price per one
Tour cost
6(2triple room)
Please contact us
4 (2twin/double rooms)
Please contact us
2(twin/double room)
Please contact us
Single room supplement
Please contact us
Above mentioned prices are inclusive of:
English Speaking Guide cum driver(From/To Nakashibestu Airport)  | Private Vehicle(SUV type for 1~2 participants, 7 seater Wagon for 3~4 participants, 10 seater Wagon for above 5 or more participants)  | Accommodation and service charges as mentioned in the itinerary  |  Meals(3Breakfast, 3Dinner)  |  Cruise boat fee and observation fee as mentioned in the itinerary  | Other surcharges
Above mentioned prices are exclusive of:
Personal expenses(Drinks etc.)  |  Lunch expenses (Lunches are not included, our guide will show you where you can have food and snacks.)
Other
※If you are more than the mentioned group size, please inquire us for the tour cost. ※ Please note that observation and photography of wildlife & birds are highly affected by the day's weather. We may need to change the travel route frequently based on the wild live's show up situation. Our guide will explain and manage the program according to the situation.
※The cruise boats mentioned in itinerary is "shared boat", not a private charter. Boat cruises are weather dependant. If the cruise are cancelled due to bad weather, the itinerary may be replaced by other day's plan. If you are not able to take the cruise throughout the entire travel period, the cost of cruise will be refunded.
※Even during the summer, the temperature around Lake Rausu is low. A part of hiking route may be slippery. We will arrange long boots for all participants for free.
※On the third day, the shiretoko lake premises may be closed, if the brown bears appear in the area. In that case, you will be guided to the elevated wood road.
※Unless it is an early flight, we can manage pick-up / drop-off in the same cost from either Kushiro Airport, Memambetsu Airport, Nakashibetsu Airport.

Contact about this tour
Travel planning and implementation:SAIYU TRAVEL CO.,LTD.
3rd floor, Kyodo Bldg. jimbocho, 2-2, Kanda, jimbocho, Chiyoda-ku, Tokyo 101-0051, Japan |Travel Agency Registration No. 607